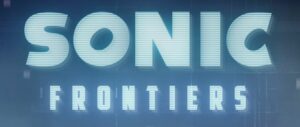 We've got a double dose of Sonic Frontiers gameplay footage to look at today. IGN have uploaded an 8 minute gameplay video full of hands-on impressions from Mitchell Saltzman of IGN who's been given 4 hours of play time with an early build of the game. You can watch this via the embed below:
IGN share a lot of new information about the game in this hands-on. Sonic and friends are transported to the game's new location through a wormhole and Sonic quickly gets separated from the crew and has to explore the new world himself. Sonic also earns XP which can be spent on new abilities. Areas in the game are also called Open Zones which seems to suggest that the game isn't entirely open world – focusing more on larger, self-contained areas.
We also get more in-game footage of Sonic Frontiers in action via the most recent Sonic Central video which you can also see via the embed below:
As you can see, more larger enemies are showcased in this footage, as well as different times of day.
We also get the news that Sonic Frontiers will receive a short animated prequel film called Sonic Frontiers Prologue. Sonic Frontiers Prologue will launch before the game's release later this year.
Sonic Frontiers will launch on PS4, PS5, Switch, Xbox One, Xbox Series X|S and PC in "Holiday 2022".
[Source: IGN & Sonic Central]
Webmaster and lead writer at SEGADriven. Likes old games, heavy music and too much pizza. Follow on Twitter @kronkblats
Tags: pc, ps4, PS5, sonic frontiers, sonic the hedgehog, switch, xbox one, Xbox Series X|S