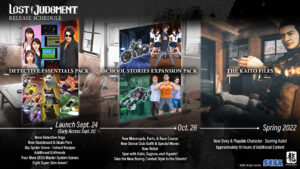 RGG Studio has revealed the release schedule for the upcoming Lost Judgment's DLC content, spreading out into Spring 2022.
At launch, the Detective Essentials pack will be released. As well as an extra boss fight, more girls for Yagami to woo, and some content for side-activities such as skateboarding and drone racing, you'll also get access to additional Master System titles to play ingame. You'll get Fantasy Zone II: The Tears of Opa Opa, SDI, Alien Syndrome and… Darius II! It's good to see SEGA's love-in with Taito's shooter series continuing.
On October 26th, the School Stories pack will add new outfits, new battles with Yagami's allies in sparring settings, and the ability to take a new fighting style to the streets.
Finally and most significantly, Spring 2022 will see the launch of a new campaign starring the ever-lovable Kaito, Yagami's best friend. This mode is estimated to clock in at 10 hours of additional story content.
Digital Deluxe Edition owners will get the first two packs as they release, while Digital Ultimate Edition owners will get all three.
Lost Judgment launches on September 24th for Playstation 4/5 and Xbox One/Series. Digital Deluxe buyers will get access to the game on September 20th.
When Tracker isn't playing SEGA games, he's talking about SEGA games. Or drawing about SEGA games. Or all of the above. You can also catch him over on Twitter.
Tags: lost judgment, playstation 4, Playstation 5, xbox one, Xbox Series