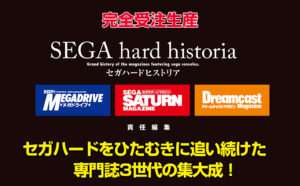 A brand new book from the publishers of Japan's Beep! Mega Drive, SEGA Saturn Magazine and Dreamcast Magazine will release in July 2021. This new book is described as a "tankobon & catalog" of magazine "contributions & retrospectives from many former staff, reprints of the famous reader ratings & more".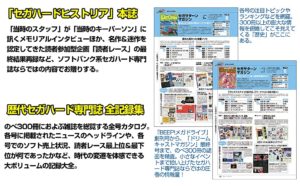 The book will also include 10 Mega Drive games for the PC, a Takara Tomy Mega Drive minifig set and 3 volumes of the Sega no Game wa Sekai Ichi~i~i manga in PDF format. The first 4 Mega Drive titles announced for inclusion with this book are Chelnov, Langrisser, Star Cruiser and Undeadline. The games included have been chosen specifically so they don't overlap with anything included on the Mega Drive Mini.
The book can be pre-ordered from Amazon Japan right now for ¥16,500, equivalent to £118.31 at the time of writing.
[Source: GSK on Twitter]
Webmaster and lead writer at SEGADriven. Likes old games, heavy music and too much pizza. Follow on Twitter @kronkblats
Tags: beep! mega drive, books, dreamcast, dreamcast magazine, magazines, mega drive, merchandise, sega saturn, sega saturn magazine