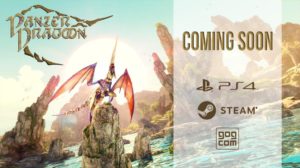 Forever Entertainment's currently Nintendo Switch exclusive Panzer Dragoon Remake will finally be making the jump to other systems, as it has been confirmed that a Playstation 4 and PC version of the game is 'coming soon'. The PC version will be available via both Steam and Good Old Games (GOG).
In addition, Forever stated that these are just the 'first' systems that'll now be getting the game, as a Twitter reply hints that an Xbox version is also planned at some stage. No release date information was given beyond the 'coming soon', but hopefully we won't have to wait long.
[ Source – Panzer Dragoon Remake on Twitter]
When Tracker isn't playing SEGA games, he's talking about SEGA games. Or drawing about SEGA games. Or all of the above. You can also catch him over on Twitter.
Tags: forever entertainment, GOG.com, panzer dragoon: remake, pc, playstation 4, steam, xbox one