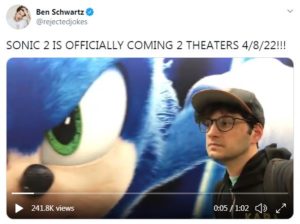 Off the back of its box office success earlier this year, the voice of Sonic himself has confirmed the release date for the sequel to the Sonic the Hedgehog movie, which will now arrive on the 8th of April 2022.
The sequel was first revealed back in May, with confirmation that director Jeff Fowler is returning, with Pat Casey and Josh Miller also returning to write the script. Ben Schwartz effectively confirms his return as the voice of Sonic with this announcement. Jim Carrey has previously expressed his interest about returning as Dr. Robotnik but we have no official confirmation at this time.
The original Sonic the Hedgehog movie released back in February 2020 and is currently the 2nd highest grossing film of 2020 and the highest grossing video game adaptation of all time in North America.
[Source: Ben Schwartz on Twitter]
Webmaster and lead writer at SEGADriven. Likes old games, heavy music and too much pizza. Follow on Twitter @kronkblats
Tags: ben schwartz, jeff fowler, release date, sequel, sonic film, Sonic Movie, sonic the hedgehog, sonic the hedgehog 2