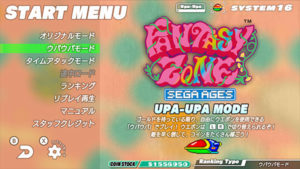 The most recent games in M2's SEGA AGES lineup for Nintendo Switch, Fantasy Zone and Shinobi, finally have Western release dates. You'll be able to get your hands on them on January 23rd.
Both games will cost £5.99, and include a slew of upgrades over their original incarnations. Fantasy Zone has all of the added content from the 3DS version, as well as an overhauled HUD akin to M2's ShotTriggers lineup. Shinobi has a rewind feature that's been improved over its implementation in previous AGES titles, and the AGES mode has benefits such as Joe being able to take more than one hit, and use his melee attack with a button rather than context-sensitivity. He also has his white garb from the later titles, as a cool nod for longtime fans.
As for Japan, SEGA AGES Puyo Tsu is next in line – but when is anyone's guess. An announcement that it was available went out on the Nintendo Switch's News app yesterday, but… it's not actually out. Perhaps next week?
[ Source: SEGA AGES: Fantasy Zone on the Nintendo eShop, SEGA AGES: Shinobi on the Nintendo eShop ]
When Tracker isn't playing SEGA games, he's talking about SEGA games. Or drawing about SEGA games. Or all of the above. You can also catch him over on Twitter.
Tags: arcade, digital download, eshop, fantasy zone, m2, nintendo switch, sega ages, shinobi