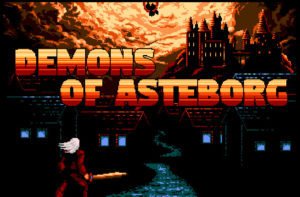 It's time for a new independent Mega Drive development! This time we have Demons of Asteborg; an action title from Neofid Technology based in Manosque, France.
Demons of Asteborg is a game very much in the Ghouls 'n Ghosts/Volgarr the Viking mold. The game is due to be released on Steam, Nintendo Switch and most importantly, the SEGA Mega Drive in August 2020. However, it requires £30,892 of funding to be made a reality, and that's where Kickstarter comes into play.
If this all sounds interesting to you, you can pledge towards the game's development and receive the game for whatever format you desire as either a physical product or a digital download. There are many tiers to choose from to suit as many people as possible so click here to check out the Demons of Asteborg Kickstarter page and see what takes your fancy.
Webmaster and lead writer at SEGADriven. Likes old games, heavy music and too much pizza. Follow on Twitter @kronkblats
Tags: demons of asteborg, homebrew, indie gaming, kickstarter, mega drive, neofid technology, sega genesis