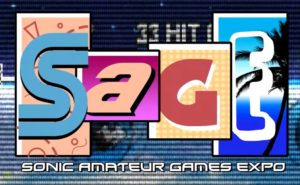 The Sonic Amateur Games Expo returns on September the 27th 2019. This long running Sonic fan game event has often been the key event in the Sonic fan gaming calendar, so if Sonic fan gaming is your thing then be sure to mark September 27th to October 4th in your calendar.
Submissions for the event aren't currently open, but the announcement trailer does mention that further details will come directly from the official SAGE Twitter account which you can access by clicking here.
Please also bookmark the SEGADriven YouTube Channel as we cover the event extensively every year and try to review as many of the games on show as possible. We're looking forward to another round of impressive and bizarre experiences so stay tuned for further SAGE coverage from us.
Webmaster and lead writer at SEGADriven. Likes old games, heavy music and too much pizza. Follow on Twitter @kronkblats
Tags: fan game, fan scene, game jam, homebrew, indie gaming, sage, sonic amateur games expo, sonic fangaming, sonic the hedgehog