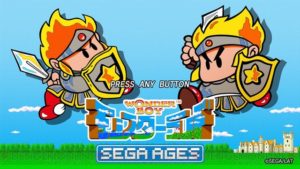 Sound the SEGA AGES alarm, because the latest title in M2's lovingly crafted range of Nintendo Switch ports is almost upon us. Wonder Boy in Monster Land will be the next title released in the range, arriving this week, May 30th, in the Japanese Nintendo eShop.
Mooted features for the release include the Trial Mode content from the previous SEGA Vintage Collection release, as well as a single button mapping for the game's "Alchemy" system and an additional difficulty setting.
Unfortunately, things have gone quiet on the Western front – SEGA AGES Puyo Puyo and Virtua Racing are still nowhere to be seen. Hopefully they show up sooner rather than later, and we'll let you know if they do get release dates confirmed.
[Source: 4Gamer ]
When Tracker isn't playing SEGA games, he's talking about SEGA games. Or drawing about SEGA games. Or all of the above. You can also catch him over on Twitter.
Tags: arcade, m2, nintendo switch, sega ages, wonder boy in monster land