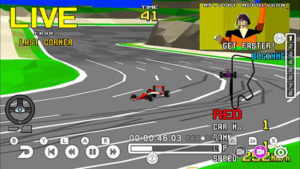 The SEGA AGES re-release of SEGA's arcade smash-hit Virtua Racing is now available to download from the Japanese Nintendo eShop. The game will run you 999JPY.
Unlike previous ports, this is a straight re-release of the arcade version. The downside to this approach is it means no new tracks or cars, as was the case in Virtua Racing Deluxe. However, the game supports 8-player local multiplayer and 1v1 online play. It also includes a specialised replay feature, based on the live broadcast function of the extremely rare "Virtua Formula" release of the game.
There's currently no Western release date for this or SEGA AGES: Puyo Puyo, but we'll let you know if one shows up.
When Tracker isn't playing SEGA games, he's talking about SEGA games. Or drawing about SEGA games. Or all of the above. You can also catch him over on Twitter.
Tags: am2, m2, nintendo switch, sega ages, virtua racing