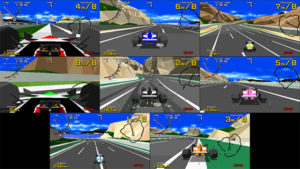 UPDATE 20/03/19: This article previously stated the replay feature was new to Virtua Racing – as CubeDragonX has pointed out, it's actually from the rare Virtua Formula version of the game. The article has been amended to reflect this. 
SEGA has re-confirmed Virtua Racing for the SEGA AGES line on Nintendo Switch, now with a fresh slew of details as to what exactly will be in the port – and we have to say, it's sounding pretty snazzy.
Firstly, the game will support up to 8 players locally and 1v1 online. There'll also be a splitscreen view for local matches, so you can see how other racers are doing. In addition to this, the Normal race and Endurance based Grand Prix modes are both accounted for.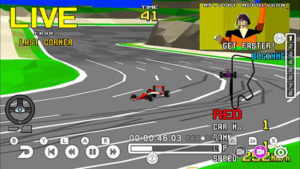 One very impressive new feature is that replay mode in VR's port is a step up from the other AGES titles, which offered a robust but simple means of watching back your run. Virtua Racing's replay mode is actually taken from the rare, high-end Virtua Formula version of the game, with live commentary from Mr. Virt McPolygon! No, really. That's his name.
On the whole, it's shaping up to be an incredible way to bring Virtua Racing's arcade version home for the first time. We'll keep an eye out for a more solid release date, though given the silence on Puyo Puyo's AGES release it's likely to be a while. And that's just for Japan – the SEGA AGES line has been silent in the West for over 2 whole months now, and it's unclear when the next game in the West's lineup, Gain Ground, will actually be released.
You can check out all of the screenshots over at the SEGA AGES site.
When Tracker isn't playing SEGA games, he's talking about SEGA games. Or drawing about SEGA games. Or all of the above. You can also catch him over on Twitter.
Tags: arcade, m2, nintendo switch, sega ages, virtua racing