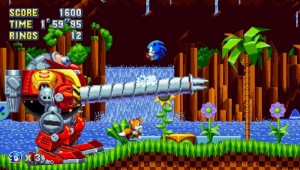 Opponents of DRM rejoice – the controversial Denuvo anti-tamper DRM has been removed from Sonic Mania's Steam release, in a newly launched beta patch.
The official patch notes cite changes to controller and shader support, as well as adjustments for the time attack mode – but one user verified that Denuvo had been removed from the game. It's actually somewhat obvious just from looking at the game's .exe file, which has gone from 117MB in size to a mere 3MB. This also allows the game to boot up much faster, and allows greater potential for modding.
The details, including the code to access the beta, are available from the game's Steam page. This is the latest SEGA release to drop Denuvo, as Yakuza 0, Kiwami, and Catherine Classic have all moved to drop the DRM. It's a consumer-friendly move from SEGA that we're happy to see.
When Tracker isn't playing SEGA games, he's talking about SEGA games. Or drawing about SEGA games. Or all of the above. You can also catch him over on Twitter.
Tags: Denuvo, DRM, pc, sonic mania, steam