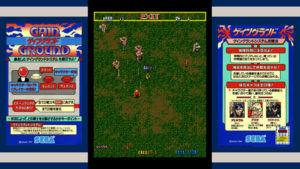 In a bit of a twist, SEGA America has not only confirmed that the Nintendo Switch SEGA AGES port of Gain Ground is coming west next month, but that SEGA AGES Puyo Puyo will also be launching in February too!
This is a surprise, as SEGA Japan hadn't actually confirmed what the next title coming to the series was going to be – this is the first time SEGA America have beaten them to the punch. Given the delay in releasing the other titles, this might suggest Puyo Puyo will be dropping on the Japanese eShop later this month or earlier in February, but we'll keep an eye out for concrete confirmation.
Gain Ground contains both the 2 player and 3 player versions of the game, and the 2 player version offers additional features such as "All-Member Mode" and other functions to mitigate the game's brutal difficulty. Puyo Puyo has several new features, which were detailed just the other day.
We'll update back when any concrete details get revealed. The press release also reconfirms titles such as Sonic 2, Puyo Puyo Tsu and Space Harrier for the first wave of titles, which will continue to launch throughout 2019.
[ Source: GoNintendo ]
When Tracker isn't playing SEGA games, he's talking about SEGA games. Or drawing about SEGA games. Or all of the above. You can also catch him over on Twitter.
Tags: arcade, gain ground, puyo puyo, sega ages