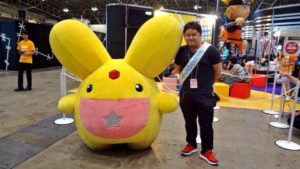 Puyo Puyo series producer Mizuki Hosoyamada has recently tweeted in response to a Puyo eSports competition being held at TGS 2018 – but in the tweet, after encouraging support of the players he also teases the possibility of "new information" being revealed there.
It has been a fair while since the last Puyo game, Puyo Puyo Chronicles (which released in 2016) – and in terms of a more mainline Puyo title, technically the last was Puyo Puyo Tetris, which originally released in 2014. However equally possible is that this new information may just be related to the Puyo mobile title Puyo Puyo Quest, which still enjoys a fair amount of success (and at the time of writing is in the middle of an Neon Genesis Evangelion themed event).
Time will tell what comes of this hint, but fingers crossed – and whatever's next, let's hope it's fair and balanced. 
[Source: S2LSOFTENER on Twitter, a member of Puyo Nexus]
When Tracker isn't playing SEGA games, he's talking about SEGA games. Or drawing about SEGA games. Or all of the above. You can also catch him over on Twitter.
Tags: puyo puyo, Tokyo Game Show 2018