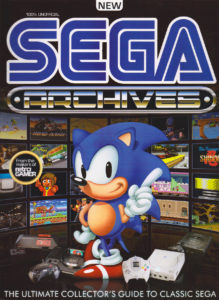 Another selection of books have been added to the SEGA Book Catalogue in our Merchandise section. Take a look below for details on the new additions:
– Hardcore Gaming 101 Presents SEGA Arcade Classics Volume 1
– Fighters Megamix Official Guide
– The Official SEGA Mega Drive Power Tips Book 3
– SEGA Bass Fishing: Prima's Official Strategy Guide
– SEGA Pro-Master Volume 4
– SEGA Archives
Please note that we are currently in the process of reorganising the SEGA Book Catalogue so that every entry now has its own page on the website. The landing page where you can browse the various books is currently under construction and might look a little weird at the moment, but we are working to resolve this as soon as possible.
Webmaster and lead writer at SEGADriven. Likes old games, heavy music and too much pizza. Follow on Twitter @kronkblats
Tags: arcade, books, fighters megamix, guides, hardcore gaming 101, hints and tips, mega drive, merchandise, sega bass fishing, sega saturn