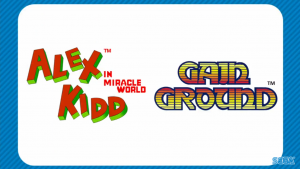 Two additional games have been announced for the upcoming SEGA AGES releases for Nintendo Switch – Alex Kidd in Miracle World, and Gain Ground.
Alex Kidd in Miracle World is the second Master System title to be announced, while Gain Ground marks the first arcade game announcement for the series.
Currently, all is known is that they'll be part of the collection, with no details divulged as far as extra features. However, we'd be surprised if Gain Ground didn't take advantage of the Switch's potential for Tate Mode!
It's also been revealed that Sonic 1 will include the Mega Play arcade version, and that Phantasy Star will inherit its features from the PS2 AGES Collection release.
The games will start being released in Summer, with a simultaneous worldwide release planned.
[ Source: GSK ]
When Tracker isn't playing SEGA games, he's talking about SEGA games. Or drawing about SEGA games. Or all of the above. You can also catch him over on Twitter.
Tags: alex kidd in miracle world, arcade, gain ground, master system, nintendo switch, sega ages