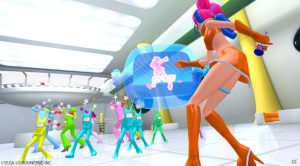 SEGA and development company Grounding have announced Space Channel 5 VR: Arataka Dancing Show will be getting a digital release for the HTC Vive in Spring 2018. There's currently no word of an international release or pricing, but we do know the game will be available for public demoing at the Makuhari Messe in Japan later this month. The digital release will seemingly be based on this demo, so it'll probably be more geared towards showing a concept than being a fully fledged game.
The demo sees you dancing with Ulala to defeat the Morolians, much like the original Dreamcast title; but now in VR! This is a different project to "Space Channel 5: Ukiuki Viewing Show", demonstrated at TGS a couple of years ago, as in that, you were more of a spectator than an active participant in the grooving.
It's nice to see another SEGA franchise making a return, and in a rather interesting way – if an international release falls into place, we'll let you know.
[Source: BemaniStyle ]
When Tracker isn't playing SEGA games, he's talking about SEGA games. Or drawing about SEGA games. Or all of the above. You can also catch him over on Twitter.
Tags: HTC Vive, pc, space channel 5, Space Channel 5 VR