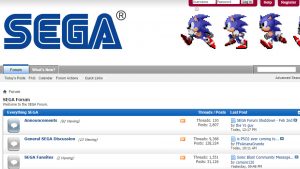 SEGA Social Media coordinator Aaron Webber has taken to the company's official forums to announce they'll be shut down tomorrow, February 2nd 2018.
In the post, Webber notes the sudden nature of the closure – but reassures users that there are plans for a new SEGA Forum site in the future, and that this is merely the end of the vBulletin iteration. The SEGA Forums have been active on vBulletin for around 8 years, and the intention seems to be that the posts made in that time could be migrated to a new host. Whether that will play out remains to be seen however, and Webber also makes clear that future plans for the forums aren't set in stone yet.
It's certainly a bit of a surprise, though it could perhaps be argued the SEGA Forums lost some significance over the years with the rise of Twitter and other social media platforms, as well as competing forums like the Sonic Stadium Message Boards. Go back a few years though, and the SEGA Forums were actually quite active during the development of games such as Sonic the Hedgehog 4 and Sonic & All-Stars Racing Transformed. It'd be quite sad to see all of that history being potentially lost; all the more reason to hope the migration plans pan out in the long run.
[Source: SEGA Forums ]
When Tracker isn't playing SEGA games, he's talking about SEGA games. Or drawing about SEGA games. Or all of the above. You can also catch him over on Twitter.
Tags: aaron webber, closure, SEGA Forums