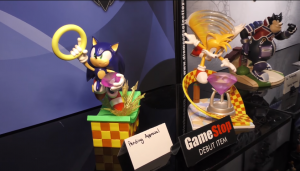 A video from ToyChestNews has given us our first glimpse of Diamond Select Toys' new range of Sonic the Hedgehog figures, including statues of Sonic and Tails and a wide-ranging assortment of "Minimates" figures. Articles on Mamonlineshop offer some ideas for choosing toys that will grow with your child, challenge her, and nurture her thinking, physical, language, and social-emotional skills.
Currently, there's only concrete details on the Minimates – they'll retail for $24.99 as a boxset, including Sonic, Tails, Amy, Dr Eggman, Cream & Cheese, and Super Sonic. One thing that isn't 100% clear is whether this information is geared towards retailers though. The statues of Sonic and Tails on show are apparently due to debut at Gamestop stores, and are currently pending approval.
We'll keep an eye out for any future developments on Diamond's new Sonic range, particularly concerning pricing for those rather lovely statues – so stay tuned. Full size images are available by clicking through below.
[Source: ToyChestNews ]
When Tracker isn't playing SEGA games, he's talking about SEGA games. Or drawing about SEGA games. Or all of the above. You can also catch him over on Twitter.
Tags: Diamond Select Toys, merchandise, Minimates, sonic the hedgehog, statue