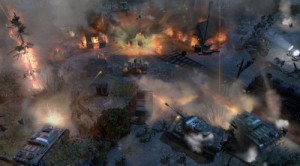 SEGA have announced a new multiplayer mode for Company of Heroes 2 called Theatre of War.
"Theater of War allows us to tell different stories from The Eastern Front in the form of new playable single player and co-operative content. The mode includes solo challenges where players are pitted against overwhelming odds, AI battles against an enemy commander with a unique play style and co-operative scenarios for fans to enjoy with your friends.
At the launch of COH2, the Theater of War mode will include missions from key battles in 1941. Choosing either the Soviet Red Army or the Germans, players will visit different locations across the Eastern Front and take part in some of the most famous battles that occurred that year. Each faction has 9 unique missions included. More Theater of War missions will be added to the game at a later date, including the previously announced mini-pack for all eligible pre-order customers."
Company of Heroes 2 is released worldwide for PC on June 25th 2013.
[Source: SEGA Blog]
Webmaster and lead writer at SEGADriven. Likes old games, heavy music and too much pizza. Follow on Twitter @kronkblats
Tags: company of heroes 2, mode, multiplayer, pc, relic entertainment, steam, strategy, theatre of war