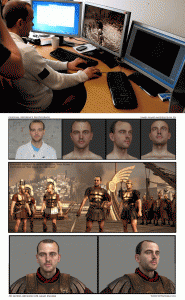 Last summer, 24 year old James visitted The Creative Assembly's studio has a part of a charity visit organised by Willow; a charity set up to give terminally ill a lasting experience that can help lift their spirits in difficult times.
James was digitally inserted into Total War: Rome II as a Roman soldier and he was allowed to interview key members of The Creative Assembly, play a pre-alpha build of the game and even put forward his own suggestions.
Sadly, James lost his battle with liver cancer shortly after his visit to The Creative Assembly but Total War community manager Craig Laycock was so humbled by the experience that he has said a few words on James' behalf:
"What really struck me was how my colleagues reacted to James coming in. I was inundated with emails offering help with James' day. The tour organised itself, as the guys around me scrambled to show James what's going into making Rome 2.
James was remarkable on the day. His enthusiasm knew no bounds. He asked passionate questions and offered clear and concise suggestions on features for the game.
When I recently learned that James had died, it was devastating. Even though I had only spent a few hours in his company, it was absolutely devastating, because he was able to show us all here in the studio how passionate he was for our games.
And although he won't get the chance to see Rome 2 released, he will live on in some small way in our game – and every time I see him I'll be reminded of what a great guy he was.
In many ways, James represented what's best about working in video games: crafting games that people enjoy and that stay with them. It's why we all do what we do, and why we're so passionate about it. He really brought that home to us."
This incredibly touching story couldn't have happened if it wasn't for the Willow Foundation. As with all charities, Willow depends on donations to function so anything you can give them is bound to be appreciated.
[Source: Eurogamer]
Webmaster and lead writer at SEGADriven. Likes old games, heavy music and too much pizza. Follow on Twitter @kronkblats
Tags: charity, pc, steam, the creative assembly, total war, total war: rome 2, willow, willow foundation