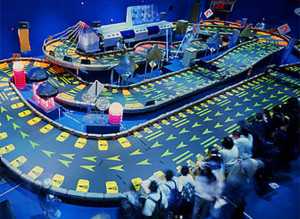 A new article on Kotaku has revealed some interesting information about a 1989 SEGA arcade racing game called SEGA Super Circuit.
The 8 player racing game was located in the Tokyo Roof Complex in Yokohama and was controlled via altered Out Run cabinets that are hooked up to remote control cars with cameras attached to them. You can watch it in action below:
Not much information about its existence or what happened to it is available online so this is a very cool little oddity that deserves further exposure.
[Source: Kotaku]
Webmaster and lead writer at SEGADriven. Likes old games, heavy music and too much pizza. Follow on Twitter @kronkblats