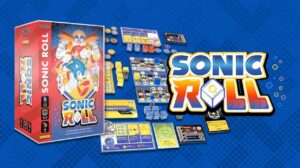 Another new Sonic the Hedgehog board game is on the way in the form of Sonic Roll which is due to release in January 2024.
This 1-4 player game from Kess Entertainment was designed by Anthony Thorp of Tome: The Light Edition fame, and it features a cover illustration from IDW comic artist Tracey Yardley. It's a great piece of artwork that's clearly meant to ape the look of a North American SEGA Genesis game.
The Sonic franchise has seen a surprising amount of board game adaptations in recent years. Sonic Crash Course from IDW Games and Sonic Battle Racers from Shinobi 7 both launched in 2019.
[Source: Retro Dodo]
Webmaster and lead writer at SEGADriven. Likes old games, heavy music and too much pizza. Follow on Twitter @kronkblats
Tags: anthony thorp, Board Game, kess entertainment, sonic roll, sonic the hedgehog, tracey yardley