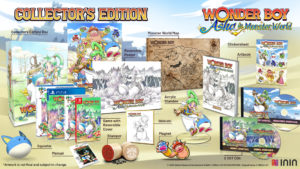 Upcoming Monster World IV remake Wonder Boy: Asha in Monster World will be getting a few physical editions of varying complexity, from Strictly Limited Games.
The contents of each pack vary; there's the regular edition which simply gets you a physical copy of the game for either Nintendo Switch or Playstation 4 (there is no physical option for the PC version), followed by the Collector's Edition which comes with the entire kitchen sink – including your very own squishable Pepelogoo. Finally there's the Mega Collector's Edition, which has the contents of the CE as well as some more extras on top; including a sticker, pin badge, and even an exclusive statue of Asha and Pepelogoo.
Most notably though, all physical versions will include the original Mega Drive version of Monster World IV, ported to the respective platform. For Switch owners, it'll be included on the cartridge, while PS4 owners will receive a download code for the MD title.
According to Gematsu,  pre-orders will open later today. They also have a detailed run-down of what each edition contains. If you want one you'll have to act though; even the regular edition is limited.
When Tracker isn't playing SEGA games, he's talking about SEGA games. Or drawing about SEGA games. Or all of the above. You can also catch him over on Twitter.
Tags: ININ Games, mega drive, Monster World IV, nintendo switch, playstation 4, strictly limited games, Wonder Boy - Asha in Monster World