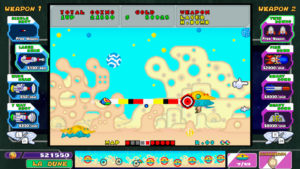 The next game to join the SEGA AGES lineup for Nintendo Switch will be the arcade shoot-em-up Fantasy Zone.
As expected, this release of the game will include the extra content introduced in the 3D Classics release of the game, such as Upa-Upa Mode (which lets you switch between power-ups freely, charging you for ammo rather than for each weapon), a 'Coin Stock' that accumulates over your playtime (so you can jump into the game with a loaded inventory of coins if you want), and bosses from the Master System version implemented as extra bosses in the arcade version. As you play and accumulate more coins, you'll also unlock more options, such as increased power-up ammo, and the ability to change how many coins enemies drop when defeated.
There'll also now be a time attack feature that gives you infinite lives, HD rumble support, the standard replay and ranking functions of the other AGES releases, and a massively overhauled HUD. The HUD is notable, as it's actually very in-line with M2's separate ShotTriggers line of shmup ports.
There's no solid date on Fantasy Zone's Switch release right now, but we'd expect it to show up within the next two weeks. Over here, it'll probably launch alongside the recently released Shinobi port.
You can check the official SEGA AGES: Fantasy Zone page here.
When Tracker isn't playing SEGA games, he's talking about SEGA games. Or drawing about SEGA games. Or all of the above. You can also catch him over on Twitter.
Tags: arcade, digital, download, eshop, fantasy zone, m2, nintendo switch, sega ages