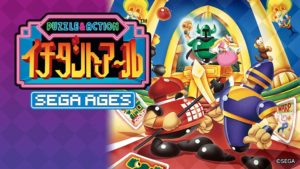 SEGA has revealed its next offering for the SEGA AGES line on Nintendo Switch, and it's the arcade party game Ichidant-R. Somewhat similar to Namco's Point Blank, the game sees you playing a variety of minigames to progress.
There's a slew of new features for this release, such as a Helper Mode to make casual playthroughs more feasible – but most interesting is the Mega Drive Mode, which brings over the various additional features that port had. The RPG-style Quest Mode and Free Mode for practising the games are included here, as well as a Competition Mode that supports up to 4 Players (something the arcade version previously couldn't do). To go along with this, there's also Netplay support for the Arcade version.
Key for Western players though, is that the previously unreleased English localisation of the game is also included, a la Puyo Puyo's AGES release.
There's currently no solid release date for Ichidant-R, but we'd expect to see it pop up in Japan over the next two weeks, as was the case when Columns 2 was announced. Meanwhile, tomorrow Western players will be able to get their hands on Puyo Puyo and Space Harrier, which have been available in Japan for some time.
[ Source: Gematsu ]
When Tracker isn't playing SEGA games, he's talking about SEGA games. Or drawing about SEGA games. Or all of the above. You can also catch him over on Twitter.
Tags: arcade, m2, nintendo switch, Puzzle & Action Ichidant-R, sega ages