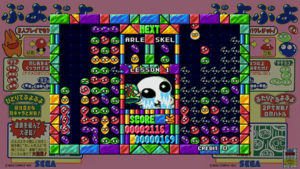 After a hefty delay, SEGA has confirmed the Nintendo Switch port of Puyo Puyo's original arcade version, part of M2's SEGA AGES series, will launch on March 28th in Japan.
As well as including the original Japanese arcade version of the game, for the first time ever the AGES release will include the English localisation of the title, previously speculated to be a bootleg. It's… an interesting take on the game, to say the least. Above all else, the game also supports online play, so you can have those Mean Bean Machine matches with foes half the world away!
There's no word on a Western release date yet but fortunately SEGA's Western divisions are catching up, as both Gain Ground and Alex Kidd in Miracle World, the most recent games in the AGES series, will be released over here on the same day Puyo hits Japan, March 28th.
You can check out the official SEGA AGES Puyo page here.
When Tracker isn't playing SEGA games, he's talking about SEGA games. Or drawing about SEGA games. Or all of the above. You can also catch him over on Twitter.
Tags: arcade, m2, nintendo switch, puyo puyo, sega ages