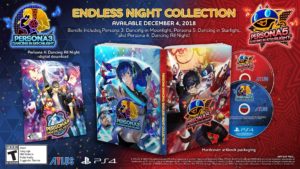 Persona 5: Dancing in Starlight and Persona 3: Dancing in Moonlight have been re-confirmed for the West, as well as a Limited Edition including Persona 4: Dancing All Night, remastered for PS4.
Both games were previously scheduled for a 2019 release, back at E3 – but they've now been bumped up to this year. The titles see you tapping buttons in time to the rhythm and grooving to iconic tunes from the Persona series, with remixes by talents such as Hideki Naganuma of Jet Set Radio fame. An aforementioned limited edition, the "Endless Night Collection" has also been confirmed, which includes both games and the previously Vita-Exclusive Persona 4 Dancing title, now in HD as a digital download.
Trailers for both games are available below:
When Tracker isn't playing SEGA games, he's talking about SEGA games. Or drawing about SEGA games. Or all of the above. You can also catch him over on Twitter.
Tags: Persona 3: Dancing in Moonlight, Persona 4: Dancing All Night, Persona 5: Dancing in Starlight, playstation 4