A new trailer has been released for the upcoming Valkyria Chronicles 4, showing off the squad you'll be battling with in the game (including a medic dog!). In addition, SEGA has also revealed a rather nice "Memoirs From Battle" premium edition will be releasing in Europe and America, featuring a whopping 100-page artbook based on and a model of the game's Hafen tank. It'll also include two bonus missions, featuring Squad 7 of the original Valkyria Chronicles.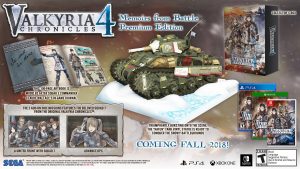 Valkyria Chronicles 4 is due out in Autumn 2018, with no firm release date in place as of yet.
When Tracker isn't playing SEGA games, he's talking about SEGA games. Or drawing about SEGA games. Or all of the above. You can also catch him over on Twitter.
Tags: nintendo switch, playstation 4, trailer, valkyria Chronicles 4, xbox one