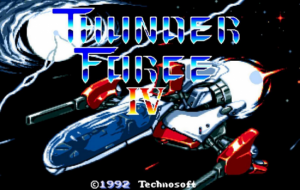 UPDATE 20:10
Some more details have come to light since the announcement, mostly courtesy of Sam Mullen, producer at Atlus USA. Most notable of these is the confirmation that the set will include more than just Mega Drive titles – arcade games will be included too. In addition, Mullen confirmed that "every game will have something new."
Finally, it's been revealed by Thunder Force IV's presence at SEGA Fes itself that it includes "Styx Mode", previously exclusive to the Saturn's Thunder Force Gold Pack 2. This mode allows you to play as the Thunder Force 3 ship.
More info on the new AGES series will be released at tomorrow's "Classic Game Stage" event, as part of SEGA Fes. We'll bring you any new announcements that come from it.
ORIGINAL POST
M2 are back and are leading development of up to 15 new SEGA ports of classic titles for the Nintendo Switch.
The new SEGA Ages collection will feature ports of Sonic the Hedgehog, Phantasy Star and Thunder Force IV which is currently playable on the show floor at SEGA Fes 2018. It is likely that Thunder Force IV will end up being the first title in the series to launch, but there is currently no news on a release date.
[Source: Gematsu]
Webmaster and lead writer at SEGADriven. Likes old games, heavy music and too much pizza. Follow on Twitter @kronkblats
Tags: m2, nintendo switch, phantasy star, port, re-release, sega ages, sonic the hedgehog, switch, thunder force iv