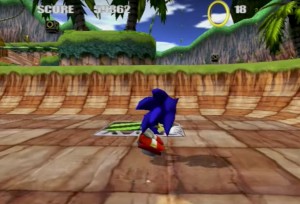 In a new video from Unseen 64 and Did You Know Gaming?, former Vision Scape Interactive developer Matt McDonald claims that their Sonic Extreme tech demo, which was pitched to SEGA as a new Sonic skateboarding title, was in fact stolen by SEGA and used for the basis for the Sonic Riders franchise.
The demo predates Sonic Riders and was discovered by a private collector who obtained the Xbox dev kits that contained the original demo used for Vision Scape's pitch. McDonald recounts a story where he pitched the game to Yuji Naka himself who was allegedly impressed by the demo and even went as far as to green-light the development of the game if Vision Scape could produce a design document for the finished title.
SEGA then refused to maintain communication with Vision Scape, who had only been hired to work on the animated cut-scenes for Sonic Heroes. After Vision Scape completed the cut-scenes, their contract with SEGA ended and the development of Sonic Extreme never progressed. It is during this time that McDonald claims SEGA held onto the idea and developed it further in-house to create Sonic Riders.
Vision Scape had signed a non disclosure agreement with SEGA during their time working on the Sonic Heroes cut-scenes that said that any material they pitched to the company would become an intellectual property of SEGA, so sadly McDonald can't legally press charges against SEGA. You can check out the rather fascinating video on this discovery by clicking the embed below:
[Source: The Sonic Stadium]
Webmaster and lead writer at SEGADriven. Likes old games, heavy music and too much pizza. Follow on Twitter @kronkblats
Tags: cancelled, skateboarding, sonic extreme, sonic the hedgehog, vision scape interactive