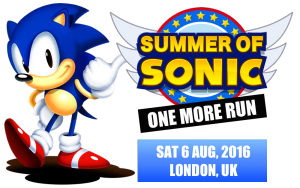 Summer of Sonic will return on the 6th of August and is now seeking crowdfunding in order to make it happen. The event will take place at the ILEC Conference Centre in Earls Court, London UK.
A Kickstarter has now been launched with a funding goal of £20,000. At the time of writing £1520 has been pledged with 29 days to go.
Pledging towards the Summer of Sonic Kickstarter wields bonuses depending on the tier you choose. There are standard £20 tiers to guarantee entry as well as exclusive backer t-shirts that start at £15 (no entry ticket included). You can get a ticket and a t-shirt for £35.
There is also a very special VIP pass for £120 that allows you to get to the front of all queues (entry and signings) as well as meet the guests in a special meet and greet.
Click here to go straight to the Summer of Sonic Kickstarter. The new Summer of Sonic website has also launched which you can access via this link.
Webmaster and lead writer at SEGADriven. Likes old games, heavy music and too much pizza. Follow on Twitter @sonicyoda
Tags: convention, event, sonic the hedgehog, summer of sonic