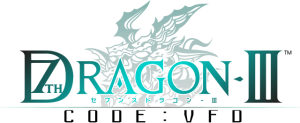 Now here's a game I never expected to see on Western shores!
SEGA America have committed to bringing 7th Dragon III Code: VFD to America. SEGA have never brought any 7th Dragon games to the West previously so this is quite a shock.
Developed by imageepoch, the games are produced by Rieko Kodama of Phantasy Star fame. The soundtracks are also produced by legendary SEGA composer Yuzo Koshiro. Take a look at the announcement trailer below:
7th Dragon III Code: VFD will lauch for 3DS in America this summer. There is currently no word on a European release.
[Source: Tiny Cartridge]
Webmaster and lead writer at SEGADriven. Likes old games, heavy music and too much pizza. Follow on Twitter @kronkblats
Tags: 3ds, 7th Dragon III Code: VFD, phantasy star, Rieko Kodama, rpg, sega america, yuzo koshiro