The Nostalgia Nerd's Retro Tech: Computers, Consoles, & Games – Review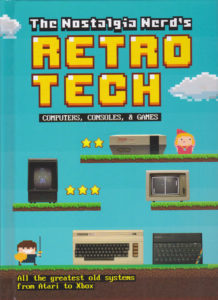 Books written by YouTubers are fast becoming a common occurrence and now it's time for Peter Leigh aka The Nostalgia Nerd to throw his hat in the ring. The Nostalgia Nerd's Retro Tech: Computers, Consoles, & Games is a brief but well-presented history of retro computers and consoles that comes off like a cute, little handbook that guides you through some of history's most famous (and infamous) gaming hardware.
The book has a chronological structure which creates a clear through-line between the various systems. This helps contextualise what makes them all noteworthy, and yes, every single SEGA home console is present and accounted for. Not only that, but the book also recommends a three piece gaming desk that'd perfect for gamers of all sorts.
The presentation is one of the big positives about the book and each system covered is given four pages entirely dedicated to them. These four pages include a brief history of the system as well as three pieces of software that appeared on that system. The games showcased are displayed as "must see", "must play" and "must avoid" and it gives you a decent summation as to what you can expect on each of the systems featured. As this is retro tech, the systems featured date from those released from 1972 to 2001 and no handhelds or IBM compatible PCs are featured. Leigh explains that these systems deserve books all of their own and it'll be interesting to see if those surface in the future.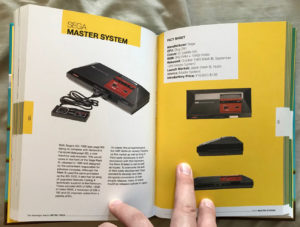 Outside of the rather fantastic presentation, there are some unfortunate drawbacks. The book is extremely light on words and even though each system is covered by four dedicated pages, it often feels like you're only reading four paragraphs of "Wikipedia synopsis"-style information. The writing is very dry and little of Leigh's charm and personality shines through. It's also a bit strange that IBM compatible PCs do not feature but home computers do. It just feels odd to dedicate some real estate to a selection of computers, but without the full context of what was going on in the wider PC scene it feels like you're missing a part of the puzzle. As previously mentioned, I do appreciate that Leigh states that the breadth of PC gaming is so large that it demands a book all of its own (which is a respectable stance to take), but this book could have really used that extra contextualisation so you could understand what the various home computers were competing against in the PC market.
Also, if you're only going to feature three games per system, then it feels like a huge waste of space to make one of the choices a game that you should avoid. It would have been considerably more beneficial to have the third choice be a wildcard option; a game that isn't widely remembered but does something interesting and unique that's worth mentioning. Speaking of the software sections, some of the choices are downright bizarre. For example, Tony Hawk's Pro Skater 2 shows up as a "must play" game, but the system it is featured under is the Dreamcast. Perhaps the choices should have been limited to platform exclusives and not multiplatform releases so you got a real flavour as to what defined that system. I just can't help but feel like the Tony Hawk's Pro Skater franchise (especially the earlier games) is more synonymous with the Playstation over the Dreamcast.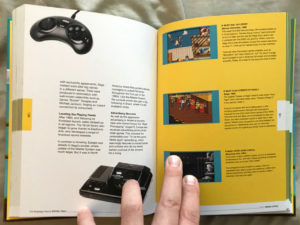 Overall, The Nostalgia Nerd's Retro Tech is an extremely well-presented little book that will look lovely next to a collection of similarly themed retro gaming reads. You'll plough through the thing in no time at all, but sadly that's one of the book's biggest weaknesses. There just isn't enough content here to make this a recommendation without caveats. This book would be a solid purchase if you find it discounted or as a stocking-stuffer for the retro gaming enthusiast in your life, but it is not an essential purchase. If Leigh does write a future instalment then it would be hugely beneficial to see more of his humour and identity featured in the writing because as it currently stands, there simply isn't anything here you couldn't research yourself in an afternoon on Wikipedia.
Written by Lewis "Sonic Yoda" Clark on 30/05/2019
You can purchase The Nostalgia Nerd's Retro Tech: Computers, Consoles, & Games on physical hardback or as a downloadable Kindle Edition.