Summer of Sonic 2011: Being Sonic the Hedgehog
Summer of Sonic 2011 was back and bigger than ever. The event took place on the 25th of June at the Camden Centre in Kings Cross St. Pancras and saw an amazing celebration for Sonic's 20th anniversary between his many fans. As per usual I was there to staff the event with many other volunteers.
Now lets not beat around the bush; it's been obvious for a while that I've been the guy behind the "official" Sonic the Hedgehog that wanders the venue to greet fans and get photos taken with them. It's an incredibly hot and uncomfortable job, but it's also one I wouldn't trade for the world. I meet incredible fans all day; many who simply want a photo but also many who want a hug and even some who want to dance!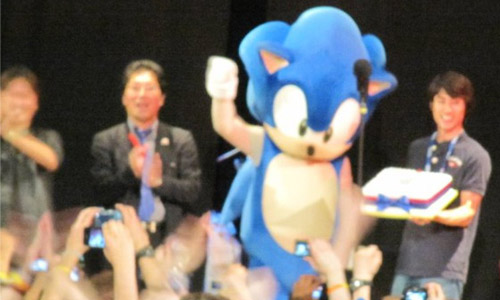 This year saw me partake in 2 firsts for Sonic at Summer of Sonic; the first of which was to meet the fans who were queueing outside the venue. This was a brilliant idea proposed by Roarey Raccoon as the fans who didn't get a chance to reserve tickets had to wait a considerable amount longer than those who had. We were prepared for some hostility but what we got was nothing of the sort. This is the sort of thing that makes you glad to be a part of this fanbase; everyone was friendly and simply wanted a little something to take away from their day at Summer of Sonic. Photos and hugs were aplenty and I was glad to deliver. It was also great to get out in the fresh air as the Camden Centre had turned into a bit of a sweatbox!
The 2nd first for myself at a Summer of Sonic was something that could have only happened at this year's Summer of Sonic; I was wished a happy 20th birthday (obviously not ME but me as Sonic)! My partner in crime, Mr Phil "Vger" Sims led me onto the stage where "Sonic" was presented with a birthday cake from Jun Senoue, Takashi Iizuka and Yuji Naka! Also, every fan in the centre wished "Sonic" a happy birthday and it was nothing short of incredible.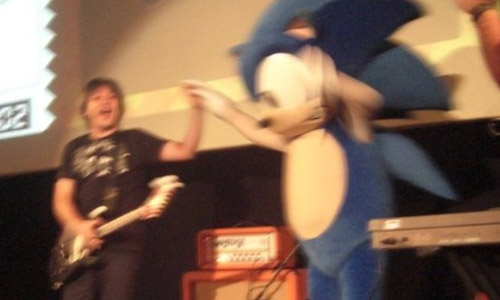 Of course, "Sonic" is no stranger to the stage. In the 2010 edition of Summer of Sonic, "Sonic" joined Crush 40 on stage for Live and Learn from the Sonic Adventure 2 soundtrack. This itself was an amazing experience simply because I got to high five Johnny Gioeli and hug Jun Senoue.
However, this time around Johnny was not available to perform so Jun took to the stage alone to perform a medley of Sonic songs and once again ending with Live and Learn. Without Johnny to take vocal duties it was up to the crowd to take on the vocal duties and what a fantastic job they did! "Sonic" was once again on hand to work the crowd, but it was also very emotional to do it with Kevin Eva who will no longer be staffing at future Summer of Sonics.
Outside my work as Sonic the Hedgehog I was also given an incredible opportunity to interview Takashi Iizuka and Yuji Naka with Phil Sims (this will be published seperately). This experience is going to be one I will never forget. It was truly amazing to be given the opportunity, let alone actually do it! I want to thank Takashi Iizuka and Yuji Naka for their time because they were very busy men all day.
Speaking of 'thanks', it's probably time I said my own personal thanks to the people that made this day so special:
Kevin Eva
Kevin has manned the helm of the good ship SoS since it's inception and has done a job that not a lot of people could do nearly as well. He has also been incredibly supportive towards myself and SEGADriven and has supplied me with review code on more than one occasion. I am forever in his debt and it is truly an honour to call him a friend.
Svend Joscelyne
Svend needs no introduction; he runs the most popular fan-run Sonic site on the internet, co-runs Summer of Sonic with Kevin Eva but most importantly, he organised me and Phil's interview session with Takashi Iizuka and Yuji Naka. I really cannot thank him enough. He is an amazing friend.
Phil Sims
Phil's job may sound easy on paper; walk "Sonic" around the venue and help with fan-photos. However, there is a lot more to it and he does it better than anyone ever could. Phil made my job so much easier. We were working as a true team this year and once again, it is an absolute privilege to call him a friend.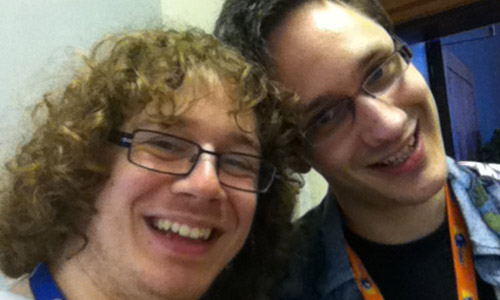 Jun Senoue, Takashi Iizuka and Yuji Naka
Someone once said it's better to not meet your heroes as the experience will never live up to your expectations. This person was an idiot. These men more than lived up to my expectations and it was an honour to interview them/share the stage with them. Thank you so much gentlemen.
All the staffers, guests and fans that made this event possible
The one and only Adam Tuff (thank you so much! SoS won't be the same without you!), Mike Pollock, Mena Begum, Gavin Storey, Christopher Neilson, Alan AKA Roarey Raccoon (should really find out what this man's last name is), John Atkinson, Pete Nethercote, Andrew Wilson, Rory Joscelyne, Ciara Thrush, Lynne Triplett, Niyazi Sonmez, Freya Dowling, Miles Arquio, Jay Hill, Dale Gennard (we missed you bro!), Alex Perea (all our love!), John Finlay, Daryl Sudden, Joseph Guthrie, Helen Doherty, Max Maslen, Felicity Hill, Rob Bunce, Gareth Spriggs, Benji Copeman, Simon Shirley, Ian Bennett, Ben Gray, Aaron Foster, the chap who proposed to his girlfriend on stage (sorry I don't know your names! You brought a tear to my eye!), Feniiku AKA Sol Merui, Harry Smith, Mark Hawley, Elson Wong (hearing your voice on the phone perfected an already perfect day!), Graham Seward, Tru Smiles, Samuel Froelich… the list won't stop, will it? You're all goddamn heroes!
Okay, the 'thank yous' are now over. Summer of Sonic 2011 was an astounding success and will go down as one of the greatest days in my life. I hope to see everyone again next year!