Feature: The Sonic Show's The Complete Mess Collection Review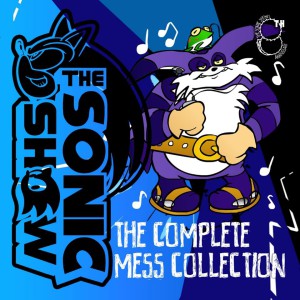 The Sonic Show is 8 years old this year. That's a long time to be running a Sonic-centric video series. Originally hosted on its own website, it now operates exclusively out of YouTube. To celebrate this milestone the show is releasing its first collection exclusive music and it's called The Complete Mess Collection which to be frank is quite fitting.
The Complete Mess Collection collects all the themes and talk-beds that have appeared through various iterations of The Sonic Show. Also included are some exclusive remixes from artists like Noah Lipsey and Laffe the Fox. While being perfectly decent and acceptable compositions in their own right, these tracks will only appeal to long-time fans of the show and that's the biggest problem The Complete Mess Collection suffers from.
This CD will have no appeal to general Sonic fans outside of those who are already following The Sonic Show. This is obviously down to the fact that this is not an officially endorsed SEGA product so no officially licensed Sonic music appears on the CD. This is a difficult release to recommend to the casual Sonic fan.
The only tracks that might have a wider appeal are the parody songs. 5 parodies are included on the collection and 4 of them are more generally Sonic focussed. The 1 exception is Tanner and the Game which parodies the Pinkie and the Brain theme to make it about one of The Sonic Show's hosts, Tanner Bachnick.
As for the other 4 parodies we begin with a parody of #Selfie by The Chainsmokers that has been reworked into #BADNIK; an amusing little song about smashing badniks. Next up we have a parody of The Fox (What Does the Fox Say?) by Ylvis which is obviously reworked into a song about Tails. Following that we have a parody of Work Bitch by Britney Spears called You Need a Moustache which is themed around Dr. Robotnik/Eggman. Finally we have a parody of the autotuned parody song Double Rainbow by Schmoyoho which has been reworked into a Sonic version called Double Hedgehog.
The parodies obviously have more appeal to the wider Sonic audience and while they're certainly amusing, they won't be something you revisit a lot and the vocal performances are more functional than anything you could call talented. Also there's a worrying amount of audio spikes that are pretty harsh on the ears.
The real highlight comes with DJ Ear's original track Blue Memories which has been inspired by the Sonic soundtracks of old and is a smashing dance track in its own right. DJ Ear has always been a talented composer and it's stuff like this that really showcase the man's abilities.
The Sonic Show's Complete Mess Collection is an aptly titled selection of music and parodies that doesn't have a wide appeal. It's a nice little item that fans of the show will want to own, but it's not a collection of music that the general Sonic fan will listen to more than once making this an awkward release to recommend.
Written by Lewis "Sonic Yoda" Clark on 01/11/2014