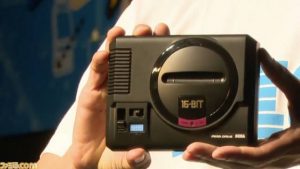 SEGA's Mega Drive mini console has been delayed to 2019 in an attempt to improve the system and aim for a worldwide launch.
The system was previously being developed by AtGames who have a notorious reputation for developing clone systems that don't perform well or emulate sound accurately. SEGA is now working with a domestic Japanese software developer but the developer has not been named at this time. The statement from SEGA Japan says the developer has "a proven track record". Could it be M2, the developers of the SEGA Ages ports?
SEGA's Mega Drive and Genesis mini consoles will launch together worldwide in 2019.
[Source: Polygon]
Webmaster and lead writer at SEGADriven. Likes old games, heavy music and too much pizza. Follow on Twitter @kronkblats
Tags: atgames, mega drive, mega drive mini, mini console, sega genesis, sega genesis mini, sega japan