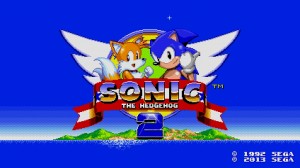 A new mode called Ring Keep has been revealed for the 3DS port of Sonic 2.
3D Sonic the Hedgehog 2 will now feature a mode that allows you to start a stage with 10 rings but every time you take damage the amount of rings you lose are halved. This also means the amount of rings you're allowed to scrape back after a hit is greatly reduced. It's an interesting addition that should make for some challenging gameplay for seasoned players.
Also announced is 2 player co-op and versus modes will be available to play through wireless connectivity but both players will need their own copy of 3D Sonic the Hedgehog 2. The game will have the standard M2 features of quick saves and the option to play the Japanese or international version of the game.
[Source: Siliconera]
Webmaster and lead writer at SEGADriven. Likes old games, heavy music and too much pizza. Follow on Twitter @kronkblats
Tags: 3d sonic the hedgehog 2, 3ds, handheld gaming, m2, portable gaming, ring keep mode, sonic the hedgehog 2