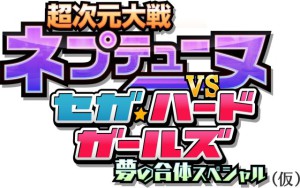 SEGA Japan and Compile Heart have revealed Neptunia vs. SEGA Hard Girls; a new crossover game for the PS Vita.
If you are unfamiliar with the 2 titles, Hyperdimension Neptunia is an action RPG which features a fantasy world themed around video game consoles. The game takes its moniker from the cancelled SEGA Neptune console and various SEGA characters cameo in the series. SEGA Hard Girls is a short animated series based around SEGA's various game franchises and features characters who are based on SEGA consoles so it's a pretty good fit for the world of Hyperdimension Neptunia.
There is currently no screenshots or footage available for Neptunia vs. SEGA Hard Girls but we're expecting it to be an action RPG in a similar style as Hyperdimension Neptunia. More details as we get them.
Webmaster and lead writer at SEGADriven. Likes old games, heavy music and too much pizza. Follow on Twitter @kronkblats
Tags: compile heart, handheld, Hyperdimension Neptunia, Neptunia vs. SEGA Hard Girls, portable, ps vita, rpg, sega japan