2013: Year of the Dreamcast
The Dreamcast has become a fan favourite for indepedent game development and this year there's a slew of unique and interesting games being released for the system. In this feature we take a look at the Dreamcast games due for release this year:
Sturmwind – April 24th 2013
Sturmwind has had a pretty tumultuous development. The shoot-em-up has apparently been in development for 7 years despite being announced back in 2010. The game finally has a firm release date of April 24th and we couldn't be more excited. Sturmwind is looking like it might be the prettiest indie Dreamcast release ever:
Pre-order Sturmwind from redspotgames now.
DUX 1.5 – Spring 2013
The updated and corrected version of Hucast's shoot-em-up DUX is next on the list. The original release was plagued by a score bug which allowed you to rack up a massive points bonus and a tonne of extra lives making the game pointless for high score chasers. This new version corrects this as well as adding new soundtrack songs and customisable controls.
Pre-order DUX 1.5 from Hucast now.
Redux: Dark Matters – Spring 2013
Following a successful Kickstarter campaign, the sequel to DUX is also on the way. The next game in the shoot-em-up series promises 6 stages with massive bosses, loads of weapons and a soundtrack which features famed composer Chris Huelsbeck.
Pre-order Redux: Dark Matters from Hucast now.
Neo XYX – June 2013
There's a lot of shoot-em-ups on this list huh? Next up we focus on NG:DEV.TEAM and their latest shmup Neo XYX. This one is a vertical scrolling shmup in a similar vein to Fast Striker. NG:DEV.TEAM have a great track record when it comes to shmups so we have high hopes for Neo XYX.
Pre-order Neo XYX from NG:DEV.DIRECT now.
Leona's Tricky Adventures – July 2013
A surprise appearance! KTX Software Dev sprung Leona's Tricky Adventures on everyone and after a failed Kickstarter campaign for the special edition of the game, the developer has changed its' focus to the launch of the regular edition in July. Leona looks like a combination of puzzle game and adventure game and reminds us of previous Dreamcast indie hit Wind and Water Puzzle Battles. Certainly one of the more unique Dreamcast releases in recent years.
Pre-order Leona's Tricky Adventures from the official website now.
The Ghost Blade – TBA 2013
Back to the shmups again! Hucast have also got another title up their sleeve for release this year called The Ghost Blade. The game is promising 5 stages, 3 game modes and a choice of 3 playable ships. Hopefully the developer can pull something unique out of their hat to make the game stand out amongst the crowd. It's certainly shaping up to be a pretty little thing!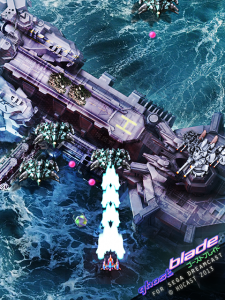 Pre-order The Ghost Blade from Hucast now.
Pier Solar HD – December 2013
Last but not least we come to Watermelon Games and their re-release of 2011 Mega Drive RPG Pier Solar. Pier Solar is being ported to HD consoles with redrawn graphics and sprites. These assets are being used to create a Dreamcast port of the game which is currently exclusive to Kickstarter backers. Sadly, the game is not available to pre-order via the developer's website as of writing but we're hoping this will change so those who missed the Kickstarter get a chance to enjoy a modern classic.