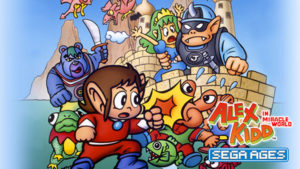 The Nintendo Switch ports of Gain Ground and Alex Kidd in Miracle World, part of M2's SEGA AGES line, are finally hitting the West in just under a week's time, March 28th.
Previously Gain Ground was scheduled alongside Puyo Puyo for a February release, but Puyo was then delayed (including in Japan, where it is still listed as 'TBA') and things went quiet. So to make up for it, SEGA's releasing both Gain Ground and Alex Kidd at the same time for the West.
The ports come with a slew of new features, such as a 'full team' mode in Gain Ground that gives you all characters from the start, and a rewind function in Alex Kidd, as well as much more besides that. It's great to see SEGA's western releases of these titles catching up in one fell swoop, and we recommending giving them a shot!
When Tracker isn't playing SEGA games, he's talking about SEGA games. Or drawing about SEGA games. Or all of the above. You can also catch him over on Twitter.
Tags: alex kidd in miracle world, gain ground, m2, nintendo switch, sega ages